Winners Announcement of Optolong 2022 Nightscape Competition-Starryscape Dream
source:Optolong
popularity:

2662
Release Time:2022-08-17
Winners Announcement of Optolong 2022 Nightscape Competition-Starryscape Dream
The 5th. Optolong Wide Field Astrophotography Competiiton came to an ended. Well we received 339 entries created by 185 participants.
All the works have been organized and uploaded to the below albums.
NightScape Category: https://photos.app.goo.gl/WKzx84hAJEKx1aia8
Special Celestial Category: https://photos.app.goo.gl/BHjgoVDpqmscfsvy7
Youth Group: https://photos.app.goo.gl/Xy3LrxqCURYXKbmv6
Massive thanks to our judges, Kerry-Ann Lecky Hepburn from Canada, Mehmet Ergün from Germany, Yuri Beletsky from Chile, Vincent Cheng from Hong Kong(China) and Steed(虞骏) from China to keep the contest equal and truth, now we are very proud to announce the winnners officially. Congrats, Dear all!
***NighScape Category
The 1st Prize-One Winner
1/1 Photo Number:267
Photo Title: Encircled Photographer: Cem Özkeser
Country: Turkey Target: Milkyway, Moon and Venus Conjuction (left)
Equipment: I used a Samyang 14mm f2.8 lens and Sony A7ii stock kamera. No tracker used.
Image Process: This is a 17-panel panorama image. Each panel is 3 images stacked.
All frames are equally exposured. 52 frames in total.
Stacked in Sequator, stitched in PTGui and processed in Photoshop.
Settings for the each frame: 20sec F4 2500ISO
Date and time: 9 Oct 2021; start: 19:58 end: 20:16
Location: Salt Lake (Tuz Gölü in Turkish), Sereflikochisar, Turkey
Story: Like most of my night photos, I took this picture on my motorcycle tour. In the photo, there is a conjuction of the Crescent Moon (with Davinci glow) and Venus in the upper left. I also caught a Draconid meteor at the top. All this is accompanied by Jupiter, Saturn, M31,M33 and lots of airglow.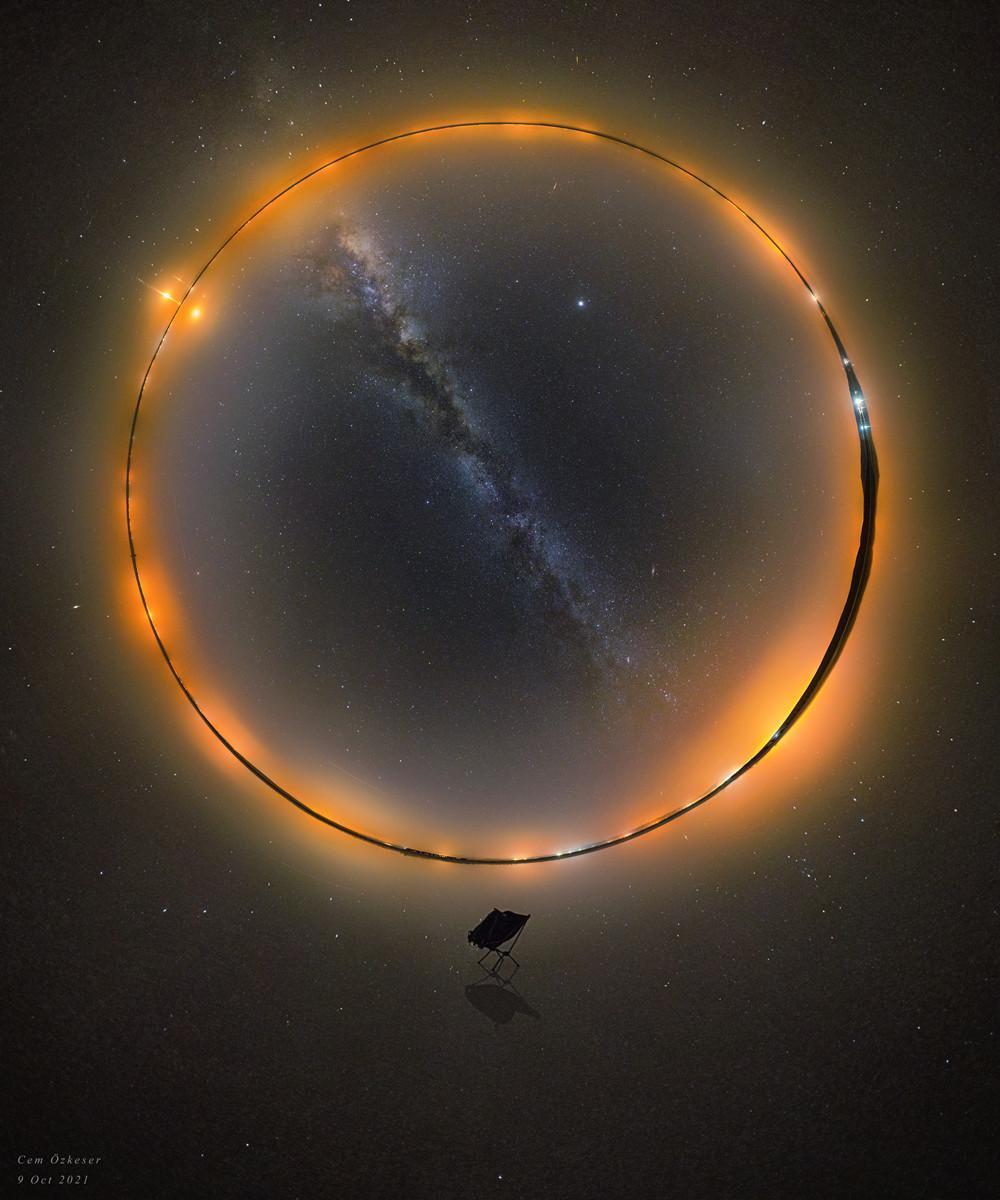 The 2nd Prize--Two winners
2/1 Photo Number 133
Photo Title:First Light.
Photographer: Lorenzo Ranieri Tenti
Country: Italy
Equipment used: Sony A7s astromodified (sky portion), Sony 35mm F1.4 GM, Sony A7IV (foreground), Sigma 14-24 f2,8 DGDN, Optolong Clear Sky filter, FornaxMounts astro tracker, tripode, intervalometer.
Date:April 8th 2022
Location: Madeira Island, Portugal.
Description:"We are located on the incredible island of Madeira off the Atlantic, in particular at one of its highest points, the peak of Pico Ruivo. This scene is probably mostly known, both as a daylight landscape, rarely, as a nightscape, and it is easy to understand why this scenario is the subject of so many photographs. The steep slopes of this ridge are covered by thick shrub vegetation that embraces and surrounds an ancient dead forest, characterized by beautiful pearls colored trees fossilized over time. The amusement that can then be felt during the night hours increases even more at the sight of these ancient creatures that extend towards the universe and our galaxy, the Milky Way, as if they drew their opal color from it. This image is a result of a mosaic of the Milky Way taken at 35 mm f2,8 iso1250 tracked for 3min and blended over its true landscape that has been shot with a higher megapixel camera at 16mm f2,8 30 secs iso6400. Foreground stacked and focus-stacked."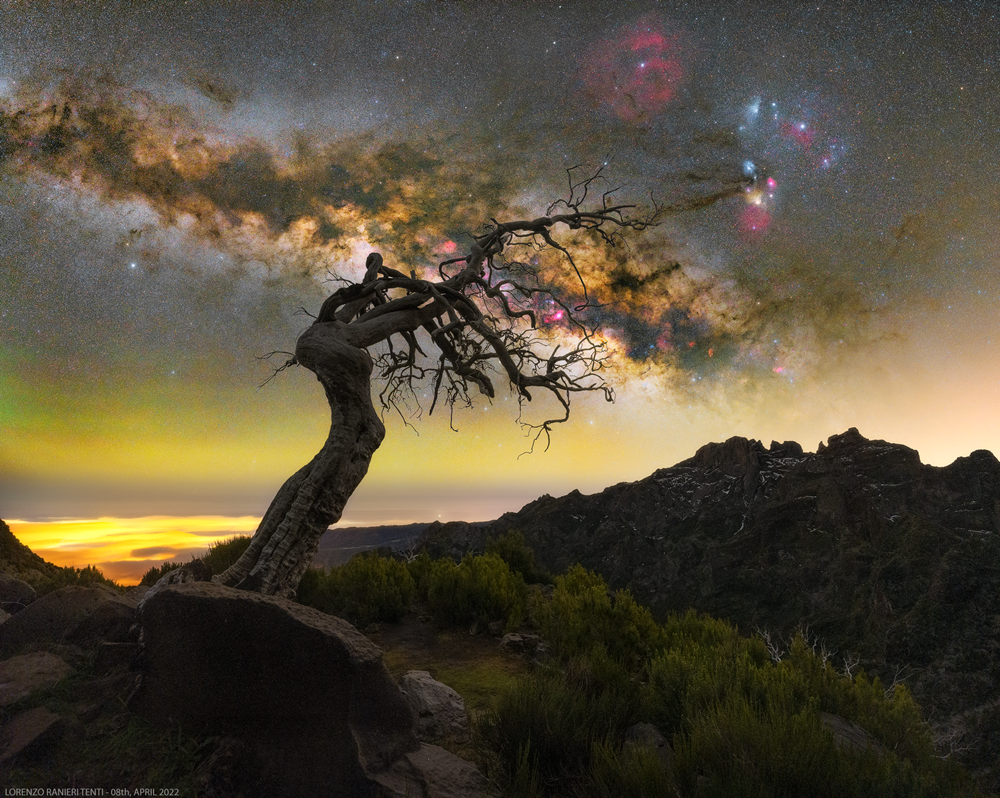 2/2 Photo Number 284
Photo Title: The Beauty of the Universe above the Logarska valley
Photographer: Uroš Fink
Country: Slovenia
Equipment used - H-Alpha astromodified Nikon D600, Tamron 35mm 1.4 SP, Sky Watcher Star Advanturer 2i
Imaging time and site -Imaging time: Both, sky and foreground was taken during night time,
Site: Solčava panoramic road above Logarska Valley
Briefly describe your photo or story, location of the photography included I think it was worth waiting for the good weather, that I have been waiting for this opportunity since the beginning of summer. In addition to the beautiful views of nature, I unexpectedly caught in my lens a Fireball Perseid meteor ( meteor which explodes in the atmosphere ), which made a real treat in the sky. He left a trail of smoke behind, which was visible in the images for incredible 20 minutes. The meteor was so strong that the white balance in the photo completely changed, the foreground for a moment become as bright as it would have been a day. It was an adventure for which it was definitely worth being 30 hours without sleep and driving 3 hours to the location of the shooting. I can say that this is also one of my favourite images at the moment. In the foreground is the Klemenšek farm - one of the most photographed farms in Slovenia, from where we have a beautiful view on the valley and the surrounding peaks. In the background is one of the most beautiful Alpine glacial valleys in Europe - Logarska valley. The peaks in the background belong to the Kamniško-Savinjske Alps. Above the Kamniško saddle Milky Way Core rises in all its beauty.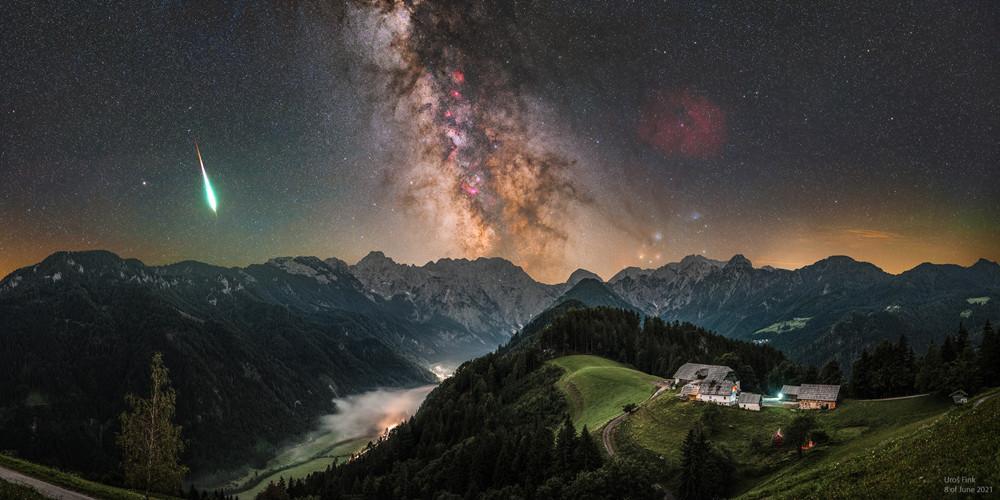 The 3rd Prize--Three winners
3/1 Photo Number 230
作品名称《北美星云升定都阁》
参赛者姓名:高瑞博
国籍:中国
参赛数量:一张
拍摄器材:佳能6D2+天虎60ed+Optolong L-eXtreme
拍摄参数:天空iso16000,60s,F6 ,80张叠加
拍摄时间:2022年6月4日
拍摄地点:中国北京
作品简述:2022年6月4日,终于等到了北京合适的天气,经过前期计划和提前的踩点,通过宇隆双窄带滤镜的加持,我在北京定都阁附近拍到了这张《北美星云升定都阁》,拍摄目标的背后就是北京城区的光污染,所以在拍摄这张照片前一切都只是我的设想,当从相机屏幕上看到北美星云和定都阁同时出现时,我心中激动不已。 后期处理方式:叠加、白平衡、裁剪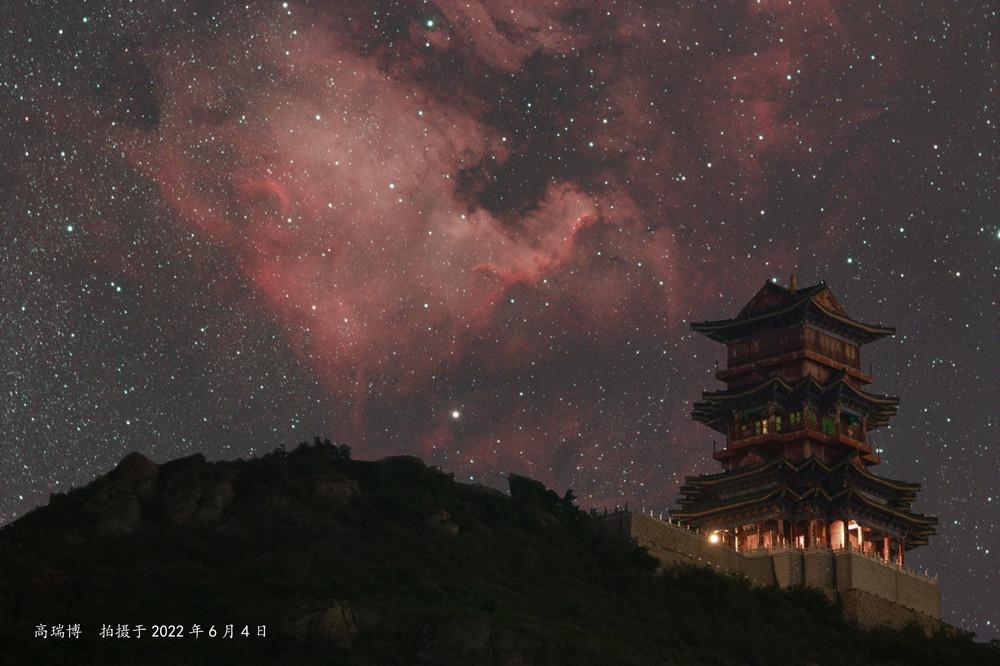 3/2 Photo Number 018
Photo Tittle:Great Chamber, Milky Way
Photographer:Marcin Zajac
Country:Poland
Nikon D810, Tamron 15-30 2022/05/01, Utah, USA An awestruck photographer watching the Milky Way from a massive sandstone alcove in a remote part of Utah.
Blended tracked sky image with blue hour foreground image.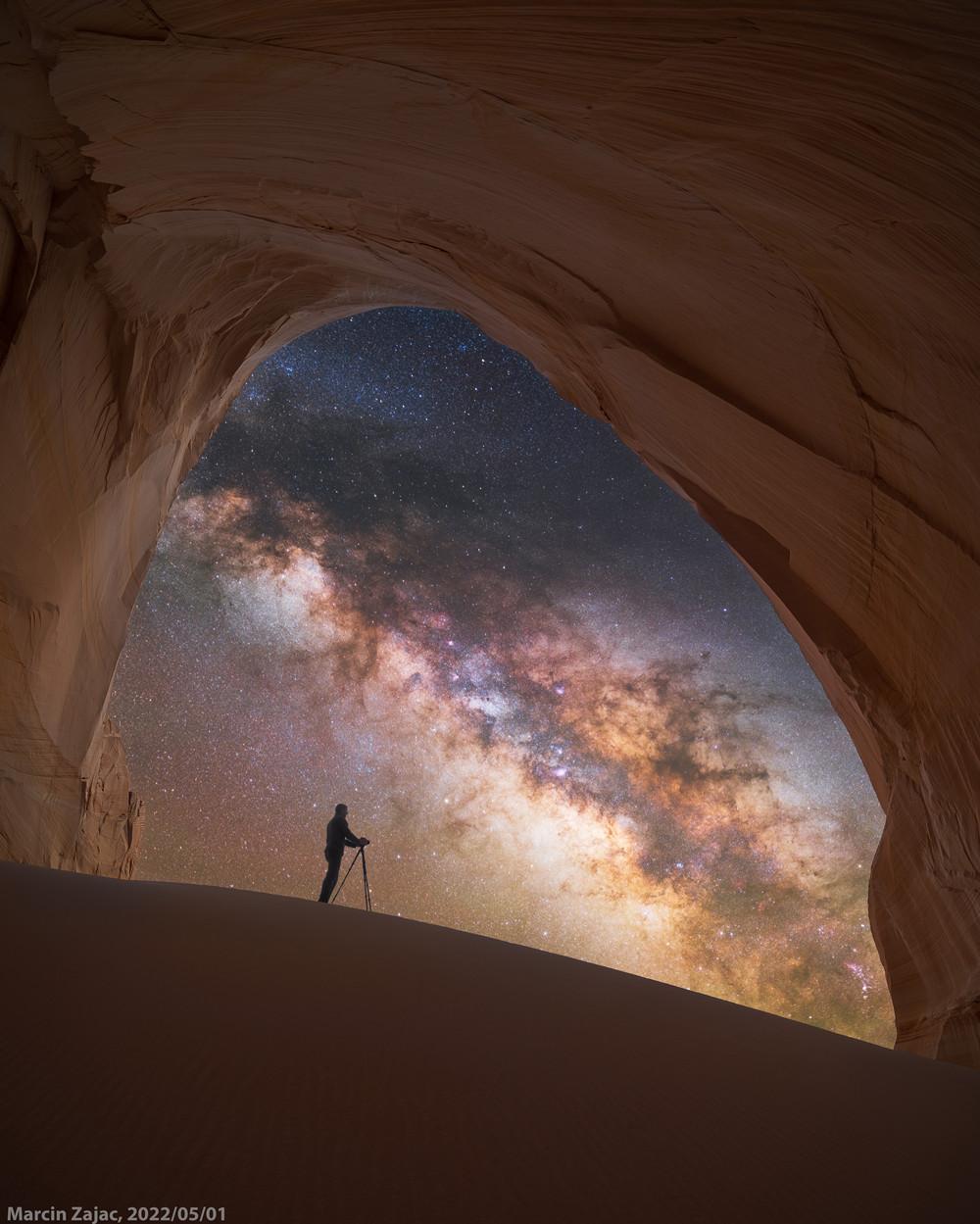 3/3 Photo Number 130
作品名称:我们生活的世界
参赛者姓名:李经纬
国籍:中国
拍摄器材:Canon 6D+Tamron 24-70mm+Tamron 35mm
拍摄参数:16mm.f2.8,iso5000,60s*3+24mm,f2.8,iso6400,60s*26+24mm,f2.8,iso3200,120s*25+35mm,f1.4,iso2000,60s*32
拍摄时间:2021年6月13日+8月12日+10月6日+2022年1月5日
拍摄地点:中国内蒙古乌兰布统+甘肃敦煌+甘肃敦煌+内蒙古乌兰布统 作
品简述:本张照片展现了北半球全年的星空景象和相应的地景。摄影师通过全年的拍摄,选取6月、8月、10月和1月的星空景象,和拍摄星空时同样位置的地景合成了这幅图片。通过本章图片欣赏到无法亲自在同一时间看到的星空的壮丽景象,意在表达大自然的整体美与和谐美。在远离光污染的地区,可以欣赏到自古以来就陪伴着人类的星空。 后期处理方式:使用PTGUI进行拼接,使用Photoshop进行对比度加强,调色。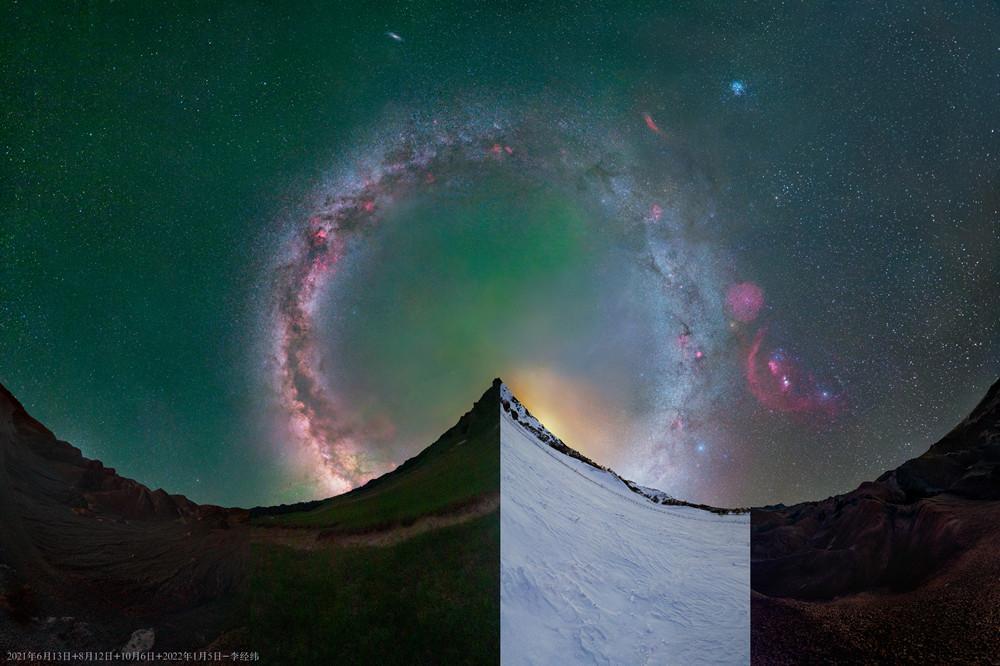 ***Special Celestial Category
The 1st Prize--One winner
Photo Number: 163
Photo Tittle: Among the shooting stars
Photographer:Tomas Slovinsky
Country:Slovakia
Imaging target: Perseids meteor shower ovec Elafonisi beach in Crete - Greece
Equipment: Canon 6D mod, Sigma Art 28mm, Sky-Watcher Star Adventurer, H-alpha 12nm Astronomik clip-in filter, 3x Samyang 12mm for meteors
Category: Tracked Ha+RGB panorama+Stacked meteors
Post-processing methods: LightRoom, PhotoShop, PTGui, Registar
Story: Our planet disposes of many beautiful places with lagoons and beaches. Where we, people, like to spend our vacations. No doubt, it's really relaxing and nice to listening to the waves and laying on the hot sand. But what if this experience would be connected with observing a meteor shower? Definitely, that sounds even more epic! This is what I felt like this August. I with my friends Petr Horalek and Josef Kujal have captured meteors from the Perseids with such a nice atmosphere. Finally, up to 232 meteors were captured during 5 clear nights around its maximum. I registered them into the panoramic background image from the same beach. As the another "dust" meaning You can see a zodiacal light across the sky and gegenschein between Jupiter and Saturn. A consequence of interplanetary dust reflecting the sunlight.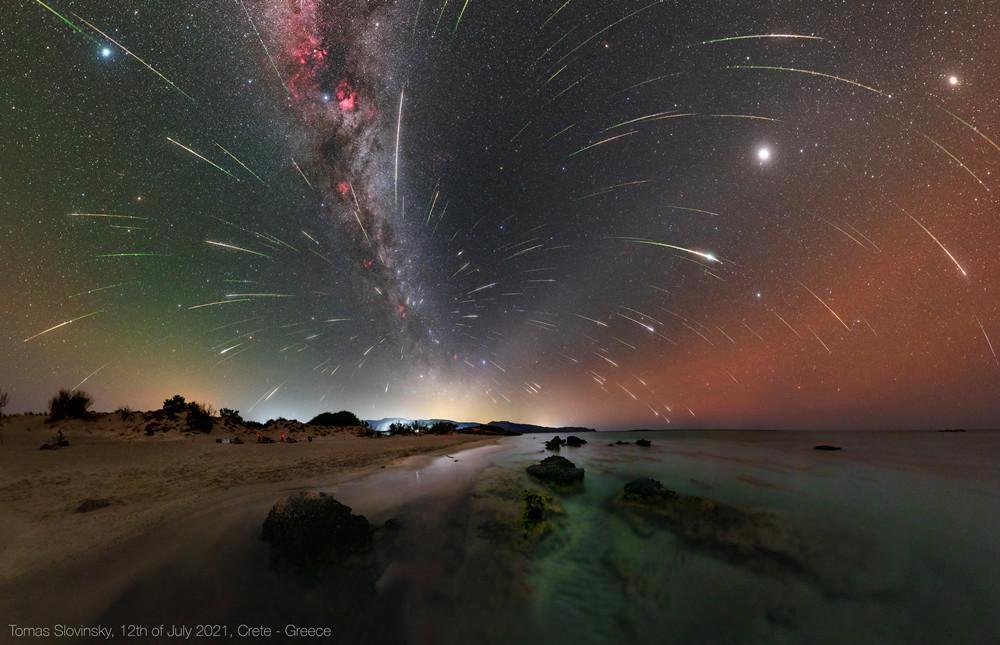 The 2nd Prize--One winner
Photo Number: 304
Photo Tittle:Meeting Comet NEOWISE
Photographer: Robert Barsa
Country: Slovakia
Equipment used: Sony A7III + Sigma Art 50mm, Skywatcher StarAdventurer
- Imaging time and site: Košice, Slovakia, Jul 14, 2020
- Description: Thanks to this amazing comet we've had parties from the late evening till the morning. People used to have fear of the comets as they were associated with some unpredicted catastrophes coming. Thanks to scientific observations of these objects we know there is usually nothing to worry about (well, only if the comet is about to hit us). Seeing a bright comet just by naked eye in the night sky is an unforgettable experience. For such an event one should dress nicely. In the picture we see two beautiful ladies greeting each other. - Post processing methods employed: Blend of two images taken from the same spot - one with the sky being tracked (37x 10 sec, ISO 1600, f/2.2) and second one with tracking turned off for the foreground with the the person (10 sec, ISO3200, f/2.2). Sky images were registered and stacked in PixInsight. Curves, levels, saturation adjustments and crop in Adobe Photoshop.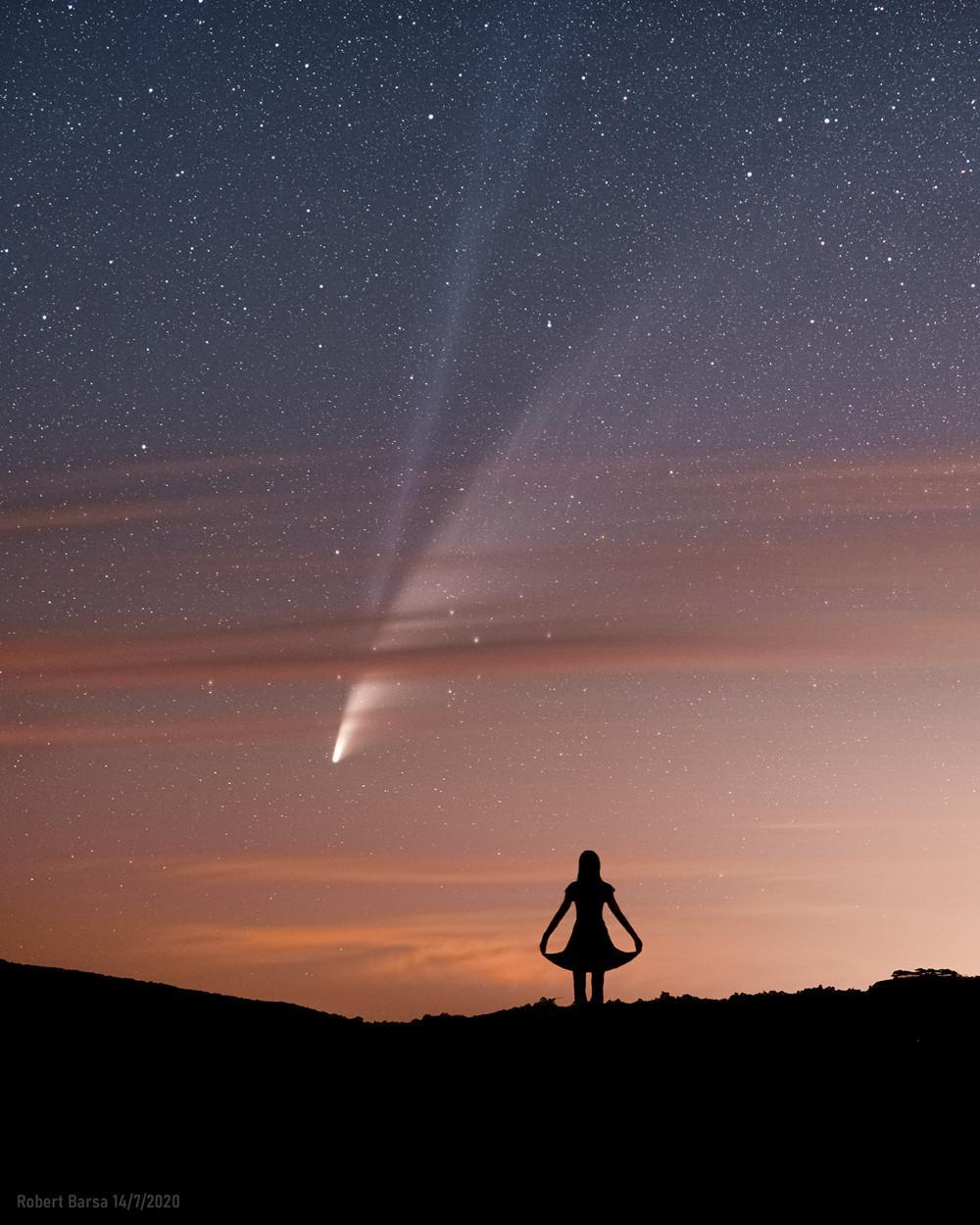 The 3rd Prize--One winner
Photo Number: 032
Photo Tittle: Eclipse over Bottom of the World
Photographer: Petr Horálek
Country:Czech Republic
Equipment used: Canon Ra, Tamron 70-200mm
Imaging time and site: December 4, 2021, above Weddell Sea
Briefly describe your photo or story, location of the photography included: Despite the pandemic, many people traveled for today's (Dec. 4th, 2021) part of totality to see the spectacular total solar eclipse over Antarctica. Some were lucky to get on the "sixth continent", others traveled via ship cruise in the Weddell Sea and around, the third group of eclipse chasers chose eclipse flight around 41000 feet above the ground, watching the narrow shadow and amazingly colored sky during the totality. This was also my case, traveling in one of two separate flights of B787-8 Dreamliners (the second one is on the image by the tip of the wing), parallelly floating the air in the shadow. Totality took about 2 minutes, bright Mercury and Antares were visible around the eclipsed sun. Amazing and unique was the eclipse because it, actually, occurred at the night (by 4 am local time) but over the summer in the southern polar circle. What a spectacular and dramatic view!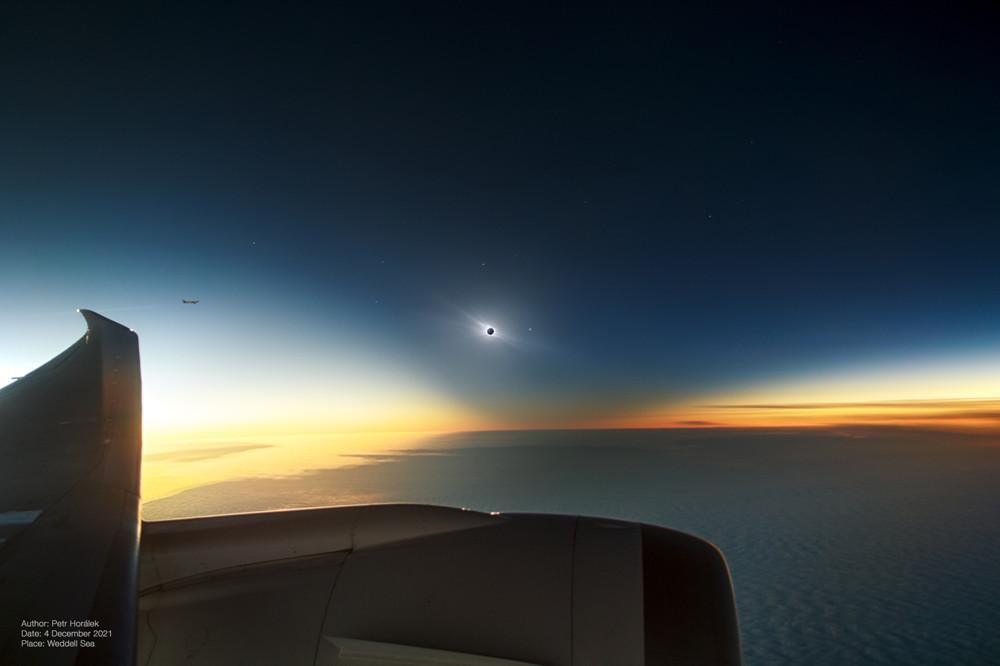 ***Youth Group
Talented Prize of Youth Group-Three winners
3/1 Photo Number: 347
Photo Tittle: Milky Way over Calbuco Volcano
Photographer:Tomás Andonie
Country:Chile
Equipment used:Nikon D3300 with 18-55mm lens. On a SkyWatcher StarAdventurer 2i with a K&F Concept Tripod. Imaging time and site: 22 January 2022 in Frutillar, Chile.
Briefly describe : One of the most planned photographs I've ever had. Ever since I saw that field of corn in my field in Frutillar (Chile), and the paths that it had in between, I immediately imagined an astrophoto in the place. I ended up having the great magellan cloud above me that same night, and without hesitation, I immortalized this fantastic moment.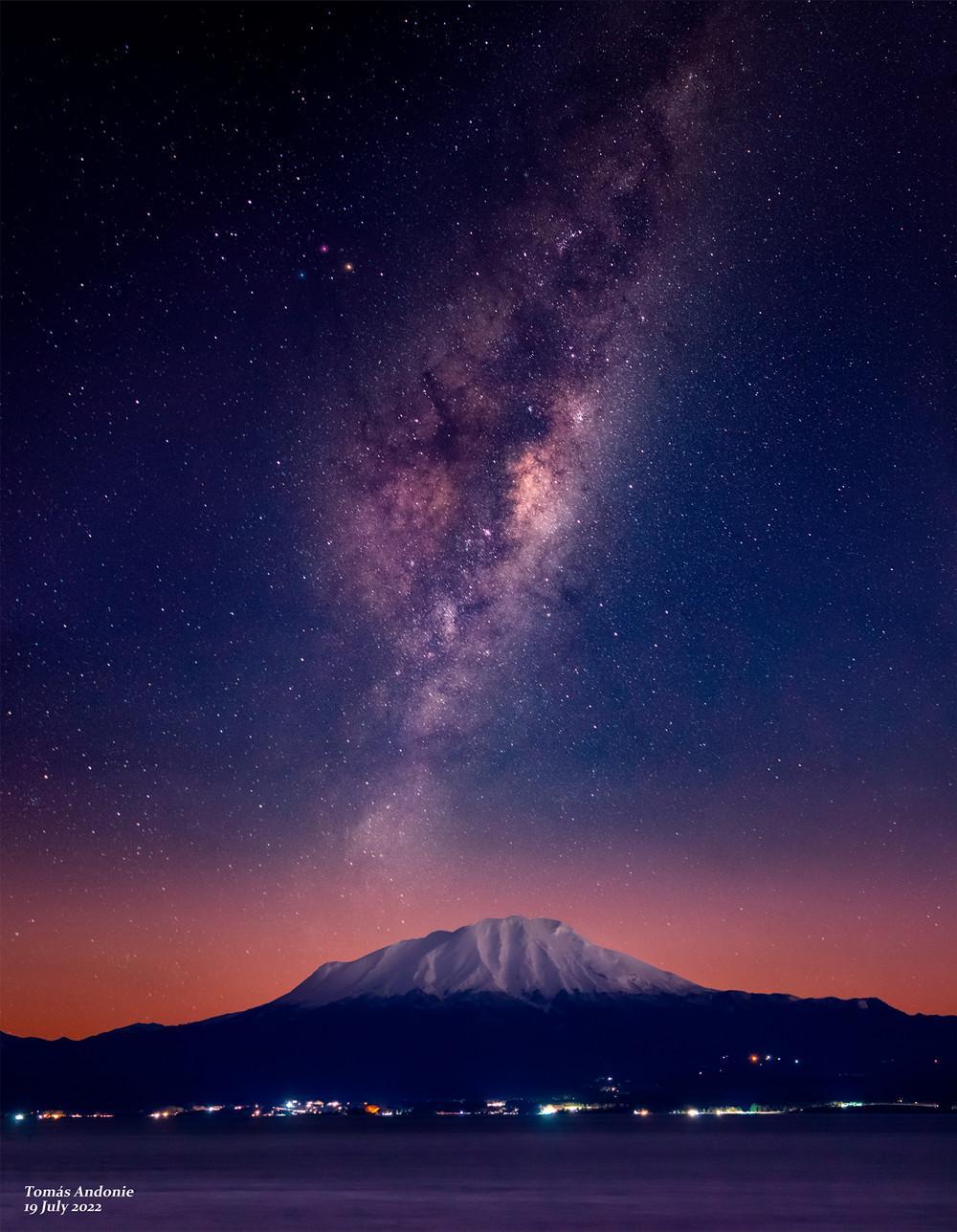 3/2 Photo Number: 098
Photo Title:the milky way globe in the city
Photographer: Victor
Country:France
Story:I made this image from my garden in France I wanted to show the whole night sky in the city under a much worse sky than in a place like the countryside or the mountain, we can see on this image the milky way which crosses from end to end, I realized this image thanks to 30 images taken then assembled on the software ICE (Image Composite Editor) to realize this globe and then I processed the image in photoshop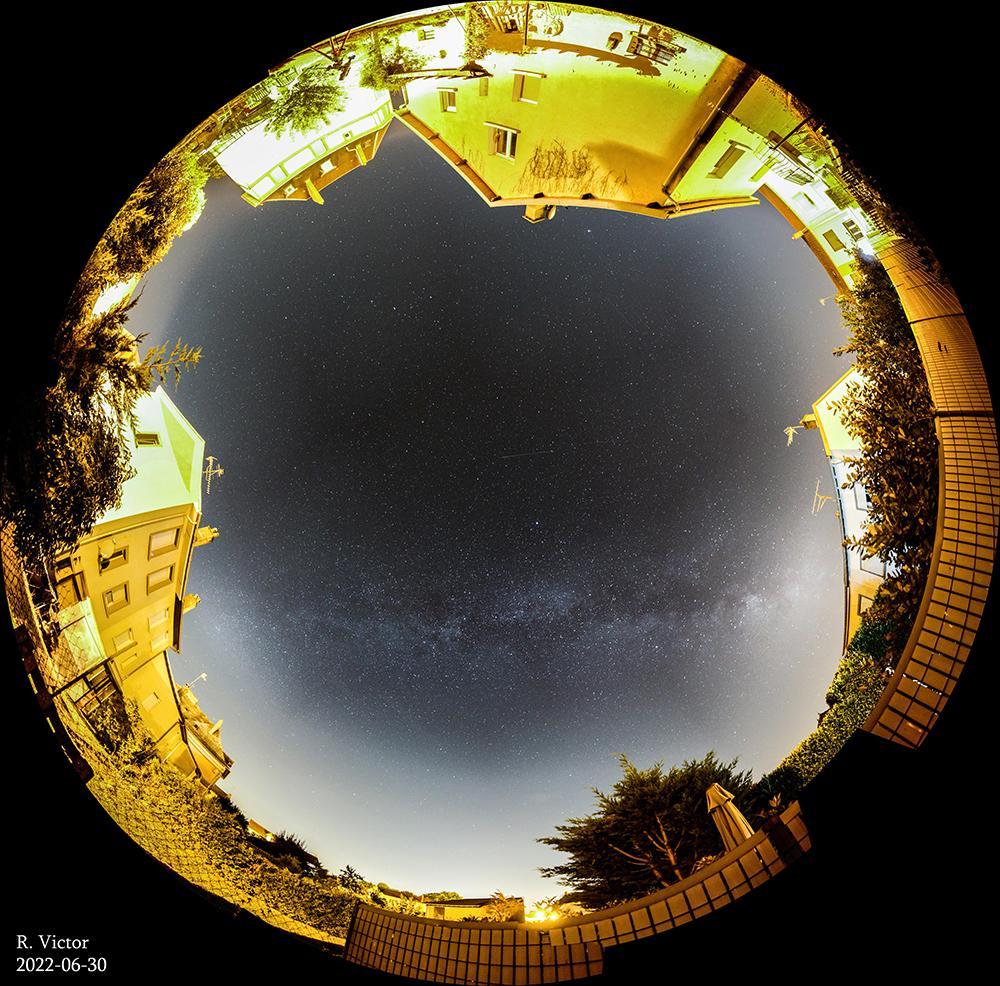 3/3 Photo Number: 237
Photo Title:My endless sky Photographer: Pooria karimifar Country:lran Equipment used : Canon 6d mii tamron 24-70 f2.8 lens lmaging time and site : 7/1/2021 in s.oobatan gilan Briefly describeyour photo or story,location of thephotography included l was photographing under the starry sky ofSobatan and l was staring at the unique stars in the sky,l wasclosing the frame and taking pictures,I was thinking and thinkingdeeply about the philosophy of life,and the words of Carl Saganalways came to my mind and l felt that Nietzsche was It's thinking,and Einstein was next to me looking at the sky, l felt like Plato wasstanding and thinking about his arguments about death,and now lhave to get up to change my frame. Exif. Camera canon 6d mii Lens tamron 24 70 f/2.8 lso 5000 Focal 35 mm F/2.8 13 sec exposure for sky 130 sec exposure Foreground Post processing methods employed (if any) Processes inphotoshop and lr.stacking in photoshop Adjust color and light in Acr.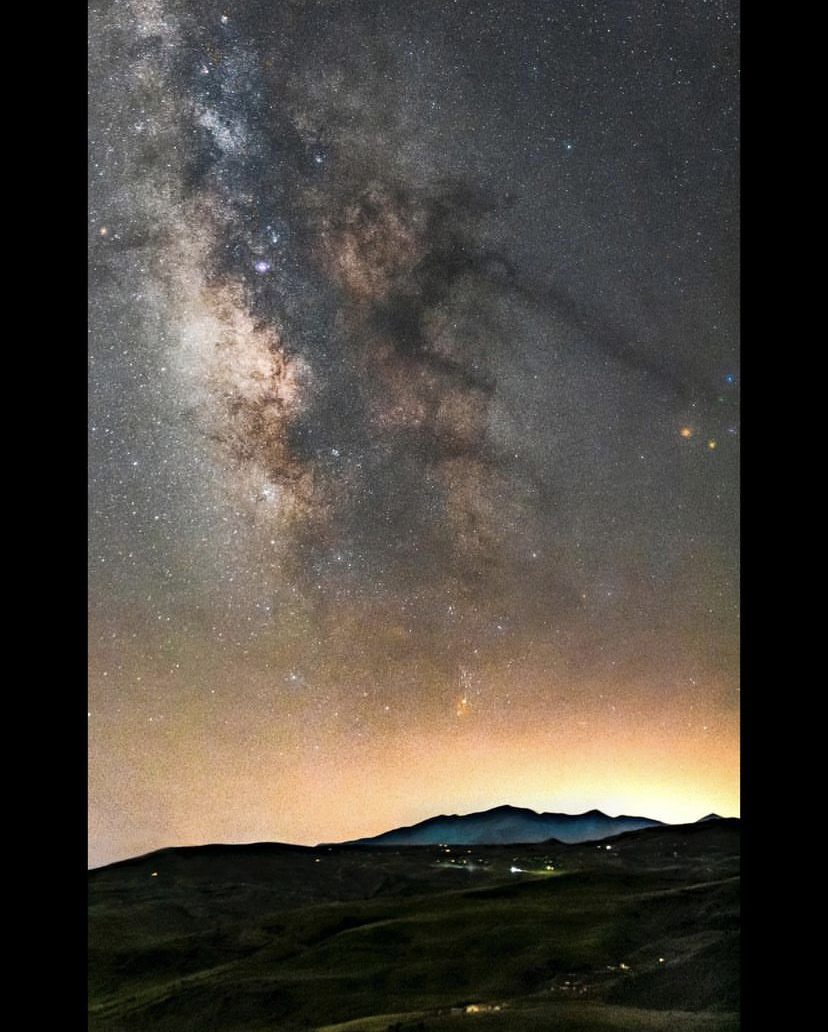 KINDLY NOTE:
The copyright of the above works belongs to the author, and no one can use it without permission.