NEW DISCOVERY: Angelo's Nebula (Martino-Sainty Object 1) + Nicola Martino and Yann Sainty + Optolong L-Ultimate
source:Optolong
popularity:

757
Release Time:2023-05-18
NEW DISCOVERY: Angelo's Nebula (Martino-Sainty Object 1) + Nicola Martino and Yann Sainty + Optolong L-Ultimate
Credit: Nicola Martino and Yann Sainty
Thor's Lightning (SNR G150.3+4.5) with a new discovery MarSai Object 1
Nicola Martino and Yann Sainty have photographed the LDN 1400 object that hides the SNR G150.3+4.5, aka "Thor's Lightning."
A collaboration on data acquisition allowed them to highlight the SNR signal but also to unveil an OIII shell around the star "CI Camelopardalis".
The StDr team, which supported them on this project, analyzed our data and helped them to register this discovery, allowing them to open the Martino-Sainty Object (MarSai O) catalog
Imaging Telescopes Or Lenses
Takahashi FSQ-106EDX4 · Takahashi FSQ-85EDX
Imaging Cameras: ZWO ASI2400MC Pro · ZWO ASI2600MM Pro
Mounts: Sky-Watcher EQ6-R Pro
Filters: Narrowband Oxygen III 36 mm ·Optolong L-Ultimate 2"
Accessories: Pegasus Astro Powerbox Advance Gen2 · Primaluce Lab SESTO SENSO 2 · ZWO ASIAIR Plus · ZWO EAF · ZWO EFW 7 x 36mm
Software: Adobe Photoshop · Cyril Richard Siril · Open PHD Guiding Project PHD2 · Pleiades Astrophoto PixInsight · Stefan Berg Nighttime Imaging 'N' Astronomy (N.I.N.A. / NINA)
Collaborators: Nicola Martino, Marcel Drechsler, Xavier Strottner, Yann Sainty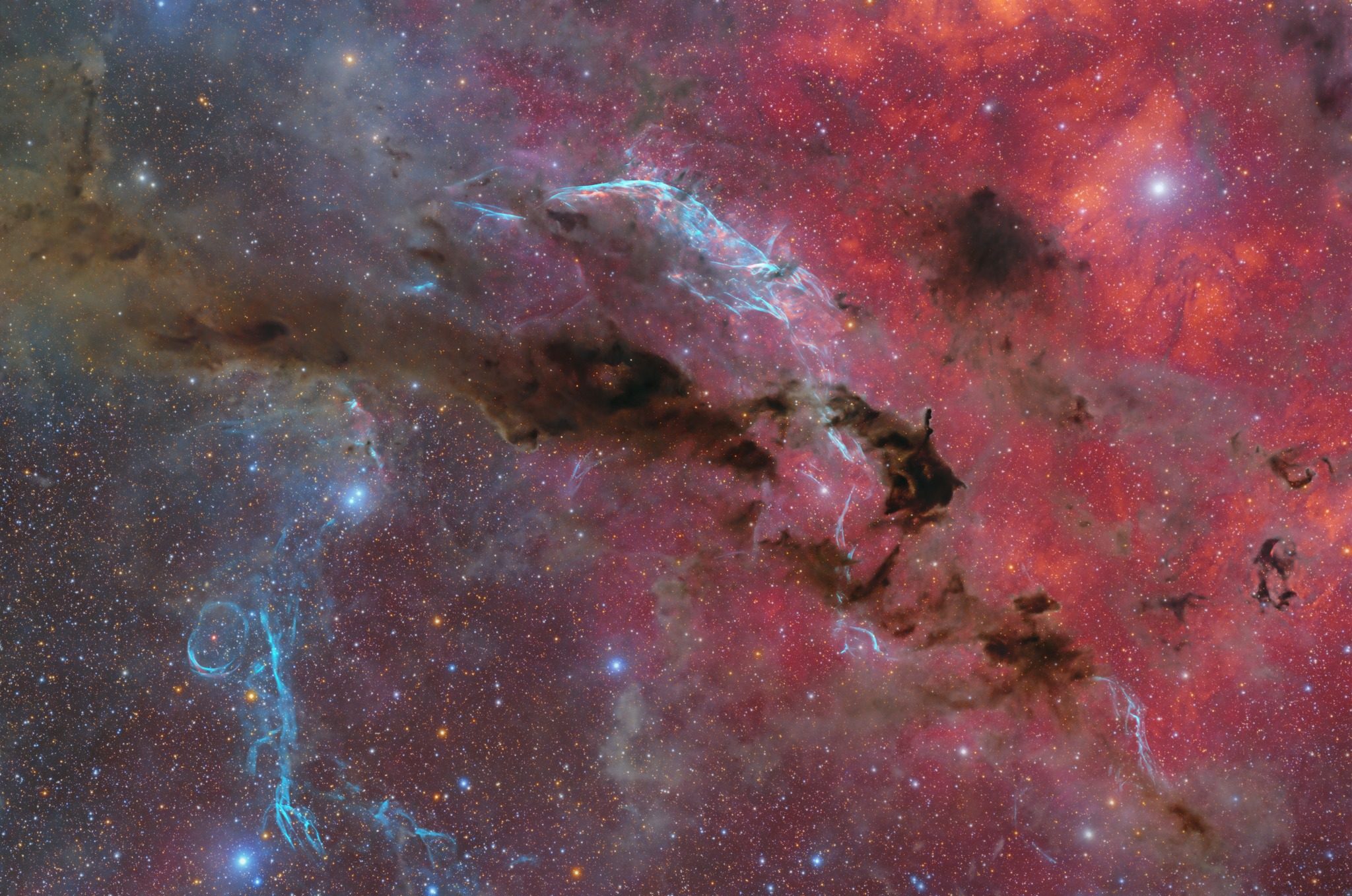 1. Summary
We have photographed the LDN 1400 object that hides the SNR G150.3+4.5, aka "Thor's Lightning."
A collaboration on data acquisition allowed us to highlight the SNR signal but also to unveil an OIII shell around the star "CI Camelopardalis".
The StDr team, which supported us on this project, analyzed our data and helped us to register this discovery, allowing us to open the Martino-Sainty Object (MarSai O) catalog
MarSai O 1 was named the "Angelo's Nebula", in homage to my father (Huge thanks to Yann for letting me choose the name...)
Below is a bit of reading and images telling the story of this adventure and giving more information about the photographed discovery.

2. The story
This adventure started in October 2022 from the desire to image a dark nebula. At this time of year, the region of Cassiopeia, Cepheus and Giraffe are prime areas.
I spotted a dark nebula named LDN 1400 in the constellation of Giraffe. Its atypical shape appealed to me at first glance and my focal length offers an interesting framing.

According to the IPHAS data, there is even a Hydrogen-Alpha signal behind LDN 1400. I pushe the research a little further and I realize that in fact, the H-Alpha signal comes from the supernova remnant SNR G150.3+4.5.

I looked on Astrobin and Internet to see what this SNR looks like... I realized that it is very rarely imaged and I've found only one picture where we can see Oxygen III in the SNR; making the project even more interesting.

To carry out the acquisition of the OIII signal I think of my dear friend Yann, because of the characteristics of his setup and his unfailing motivation, who agreed to join me in this project.

In total, 7 nights will have been necessary to collect the maximum of data.
We wanted the moon to be as little present as possible in order to have a more "pure" OIII and Ha signals.
In view of our requirements, the shooting sessions started on October 27, 2022 (in Puzieux, Moselle, France) and ended on January 20, 2023 (in Moydans, Hautes-Alpes, France).

The total integration time is 46h15.

By analyzing the final data, we thought that the image had an interesting potential.

The project was presented to our friend Marcel Drechsler, and we asked him for a little help with the image processing. He agreed to process the Ha and OIII narrow band data and the finishing touches if needed. This was already for us a real honor and an unmeasurable chance.
Yann and me were in charge of processing the RGB data (with the pressure to live up to the honor Marcel gave us :-) )

So we presented to Marcel 3 versions of the image, to give him the opportunity to tell us which one would be the most suitable for the integration of Ha and OIII.
And that's when things started to take an unexpected turn.

Marcel informed us that he had noticed some bubble-like OIII signal around CI Camelopardalis. I noticed this bubble too and discussed it with Yann, but we thought it was part of the SNR.
With Xavier, the StDr team has been doing some analysis and research on this star and its activity.

3. Description of the discovery
A previously unknown nova envelope lies around the star CI Camelopardalis, a very high mass X-ray binary system.
The object lies in close proximity to the OIII filaments of the supernova afterglow G150.3+4.5, but the bipolar envelope of CI Cam is a self-contained, isolated object that lies far in the background of G150.3+4.5.
The last known flare of this system occurred in 1998 and was the subject of numerous studies and publications in the following years.

We have discovered a much older envelope around the star, which, according to current calculations, is between 1500 and 2200 years old. This calculation is based on motion data obtained in 1998/1999. These data revealed initial velocities of 14 000 km/s, but which decreased by a third after a few days. These velocities were unexpected and even exceeded those of a type 1A supernova, which explains the power of the flare in combination with the X-rays measured by CI Cam.
Since distances to binary systems like CI Cam are very imprecise to calculate, the values vary from 4.7 to 7.6KPc. If we take the average value as a base, we get a diameter of 50 to 60 light-years for the recently discovered nova envelope around CI Cam.
What is remarkable is the almost identical trajectory and orientation of the 1998 flare of CI Cam and 1500 to 2200 years ago. The axis of the nebula is almost exactly north-south, with a slight tilt to the east. The dominant northern periphery also corresponds to both eruptions.

During our work, we could identify a very strong OIII. H-alpha, however, was so weak that it was impossible to separate it from the background through our H-alpha filters. The IPHAS survey was, however, able to identify a weak northwest arc, we used those datas to integrate it to the discovery image.

The envelope around CI Cam that we discovered and that has not been mentioned in any publication so far is much more powerful than an ordinary nova and is, in terms of intensity, between a nova and a supernova.
HaOiiiRGB :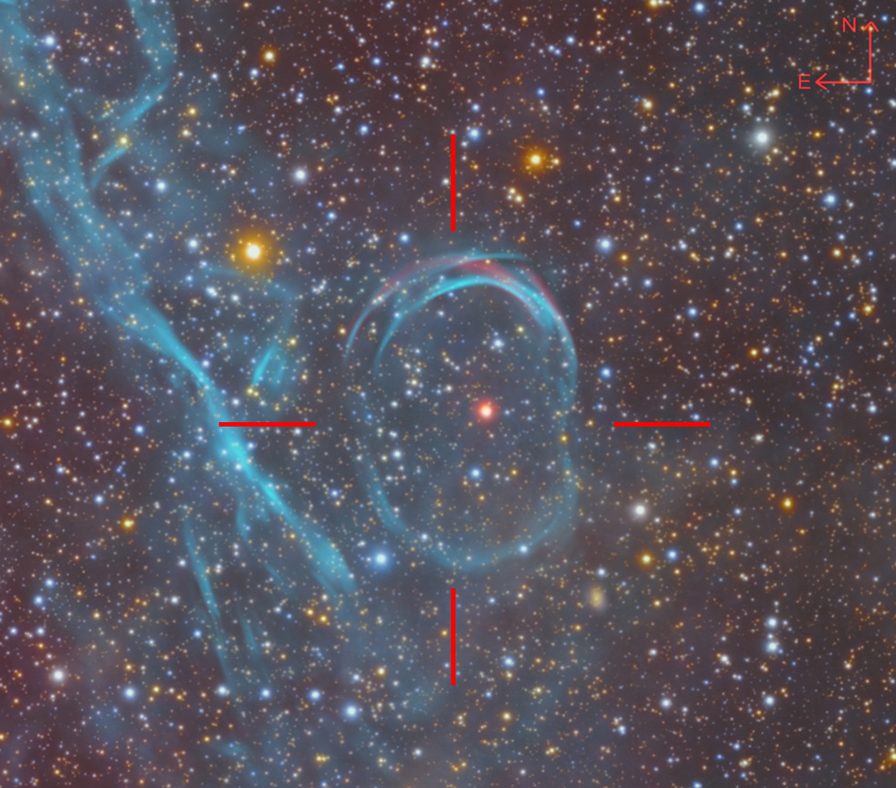 Negative OIII :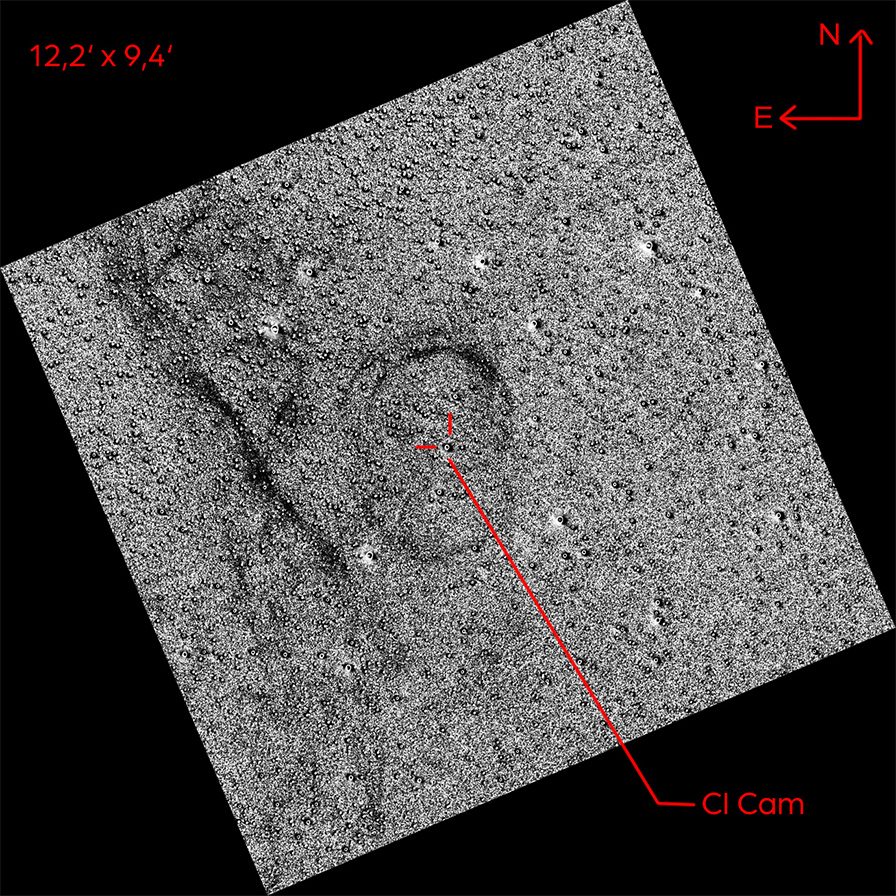 Ha IPHAS (we have integrated the IPHAS data for the Ha of the discovery) :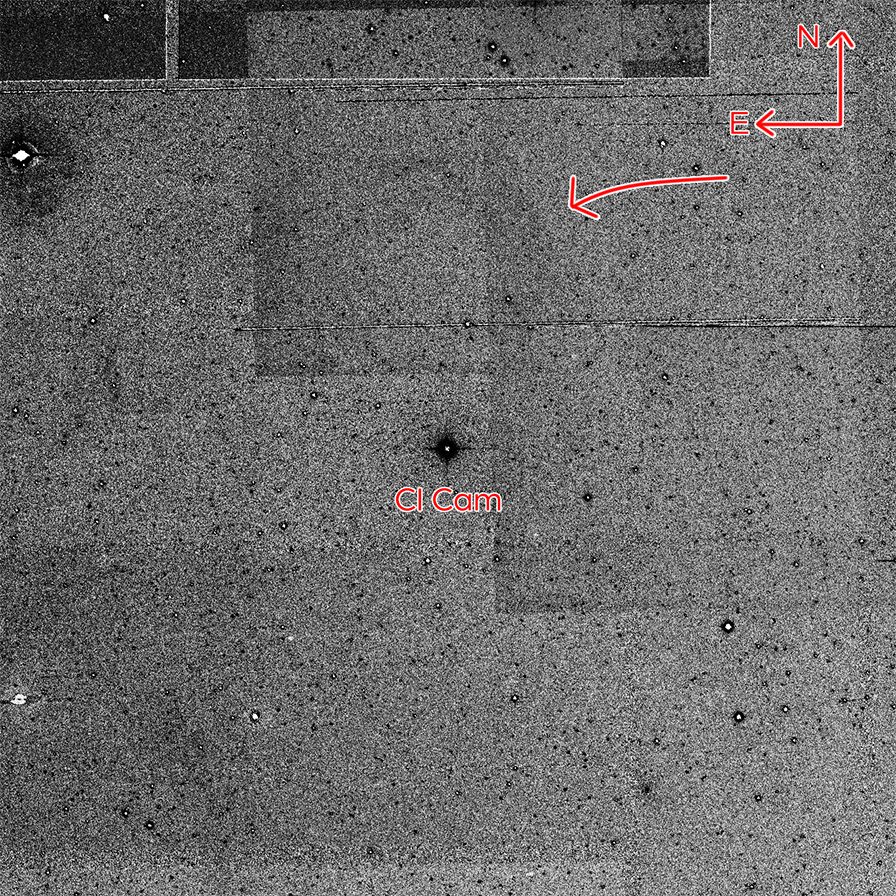 The StDr team gave us the possibility to register it in a new catalog which would bear both our names, Yann and me.
So we made the official request to Pascal Le Dû, who did us the great honor to confirm the registration of the discovery.

The MarSai Objet catalog is officially born and here is our first discovery: MarSai O 1 - Angelo's nebula - in homage to my deceased Dad.

The final photo of LDN 1400, Thor's Lightning SNR G150.3+4.5 and MarSai O 1 is a mixture of ice, lightning and apocalypse.


"And no one sings me lullabies,
And no one makes me close my eyes,
So I throw the windows wide,
And call to you across the sky..."
Origin from Astrobin: Thor's Lightning (SNR G150.3+4.5) with a new discovery MarSai Object 1