Optolong Deep-Sky Astrophotography Competition 2021
source:Optolong
popularity:

6520
Release Time:2021-10-20
Optolong Deep-Sky Astrophotography Competition 2021

Preface
Astrophotography enthusiasts are encouraged to take excellent astronomical works and share them with their peers around the world. The 3rd. Optolong Deep-Sky Astrophotography Competition was held from October 20th. to December 20th. 2021.
• The competition is open to everyone.
• The competition is owned and organized by Optolong Optics Co.,Ltd.
• The competition will accept images of various astronomical object. These include:
Deep-sky objects such as star clusters, galaxies, nebulae and Solar System objects such as planets, Moon, Sun, comets, meteors, eclipses, object transits, etc.
It does not include images that show foreground objects and/or landscapes in the image.
The judges will rank all submissions and award the prizes;
Prizes
Level

Prize Category

Winners Number

Prizes

1

The 1st Prize

One winner to be selected

❶QHY 268M *1

❷NEW!Optolong LRGBSHO-3nm kit *1

❸Trophy *1

❹Certificate of Awards & Honors *1

2

The 2nd Prize

Two winners to be selected

❶Askar 200mm Focal Length *1

❷Optolong L-eXtreme *1

❸Trophy *1

❹Certificate of Awards & Honors *1

3

The 3rd. Prize

Three winners to be selected

❶BOSMA binocular *1

❷Optolong L-Pro *1

❸Trophy *1

❹Certificate of Awards & Honors *1

4

The Top 6 Popularity Award

Six winners to be selected

❶Celestron Elements Thermotorch 5 Flashlight *1

❷Trophy *1

❸Certificate of Awards & Honors *1
***The first, the second and the third prizes shall not be repeated by default. If the different works from a photographer win any of the first, second and third prizes, the higher prize shall be deemed as a valid prize;
***The Top 6 popularity award and the first, the second and the third prizes are allowed to be shared;
***The prizes offered as final, and cannot be exchanged for a cash;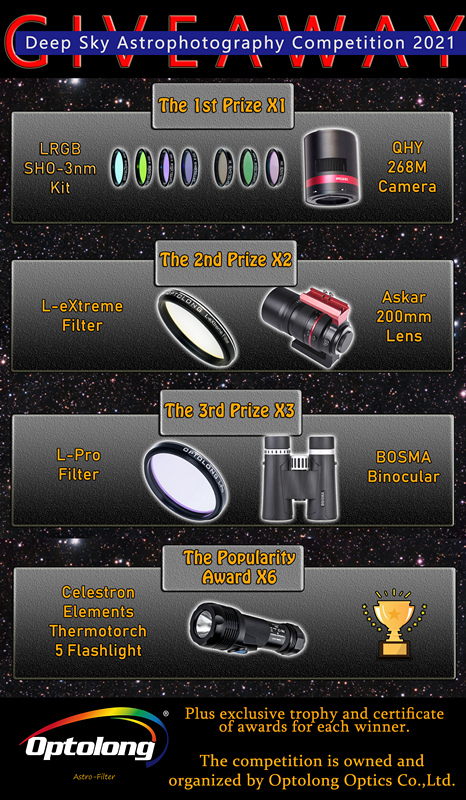 Conditions of Entry
• The entrant must have taken all images submitted; The entrant must have used their own equipment to produce the images; The use of paid PROFESSIONAL remote imaging services is not permitted;
• The submission images are required haven't won in the last Optolong Deep-Sky Astrophotography Competition;
• The cameras used to take the image can be either monochrome (with or without filter wheel) or One Shot colour. The camera types can include:
D

edicated astronomy camera

M

odified DSLR

Original DSLR

M

irrorless camera

V

ideo camera
• Entrants may use either telescopes or camera lenses to capture their image as long as the object of interest is clearly identifiable;
• Filters may be used in capturing the image, including LRGB and SHO filters;
• Stacked and panoramic images are permitted;
• There is no restriction on when and where the image was taken; however the judges gives priority to the most recent works;
• Entries must be submitted in electronic format (JPG, PNG, TIF);
• Maximum size of images are 5M;
• Images can be submitted as ATTACHMENT by email to [email protected] with the following information:
Your attachment should name as: photo name + your name+ your country
Your e-mail content should include the following information:
- Your name and your country
- Imaging target and date
- Equipment used and the technical card
- Briefly describe your photo story, digital processing methods employed (if any)
-Your submission image quantities
• Each entrant may register a maximum of 3pieces of photographs spread across any of the categories; No submission may be awarded more than one prize.
• The decisions of the judge will be final and no correspondence will be entered into;
• Copyright will remain with the photographers. The Optolong reserves the right to use the images for non-commercial purposes with acknowledgement to the photographer;
• By submitting an image to this competition you agree that the image is an original piece of work taken for the purpose of this competition and does not infringe anyone else copyright;
• Please do not submit your image to the competition if you do not wish to grant these rights to Optolong Optics Limited;
• Winners will be announced on our website and through social media.
Entries will be assessed according to the following criteria: content; object type; object brightness; level of difficulty in photographing an object;uniqueness, etc.; and aesthetics — i.e. the object's visual attractiveness, picture sharpness, noise reduction, etc.
Competition Timeline
| | | |
| --- | --- | --- |
| No. | Event Level | Time Period |
| 1 | Competition Announcement | Oct. 20th. 2021 (Wed.) |
| 2 | Submission Time | Oct. 20th. - Dec. 20th.2021 |
| 3 | Submission Deadline | Dec. 20th.2021 |
| 4 | Shortlisted Namelist | Dec.31st. 2021 (Fri.) |
| 5 | Scoring Time | Dec.30th.2021—Jan.10th.2022 |
| 6 | Winners Announcement | Jan. 15th. 2022(Sat.) |
| 7 | Prizes Delivery | Due to Feb. 28th. 2022 |
***If no exception occurs, perform the operation as scheduled.
Scoring and Judges
•All entries are assessed by our expert judges, who make the final decision regarding entries selected for the 1st Prize, the 2nd prize, and the 3rd prize awards. Judges intend to showcase as many of the entrants as possible and there is a preference for recent or timely images, but entries are not restricted to recent work.
•The popularity award is voted by public fans on the shortlisted works, and the TOP 6 are the winners.
•The judging panel will consist of Warren A. Keller, Dr.Ron Brecher, Luca Fornaciari, Trevor Jones(AstroBackyard), and Tommaso Massimo Stella.
Judges are equal improtant, the list is in random order.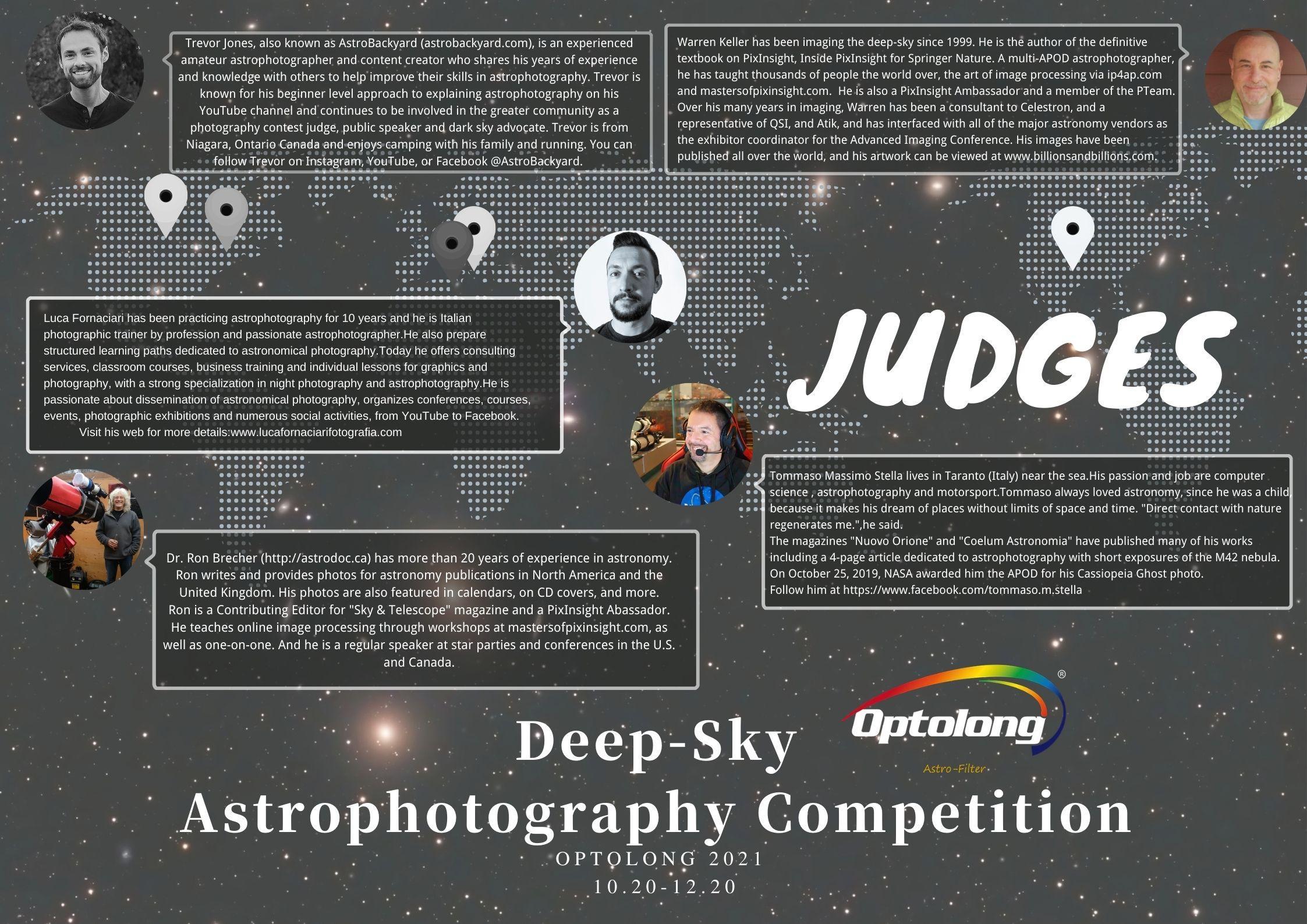 Competition entries should be submitted to Optolong([email protected]) before December 20th. 2021. Winners will be announced on January 15th 2022.
For further information on the competition and instructions on how to enter, please feel free to contact us at market@optolong.com.
Submission access via email: [email protected]
Click here to download the PDF rule if you like.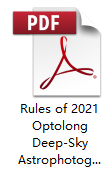 Just feel free to click Google Album to review all submissions. Welcome to "LIKE", "FORWARD", "SHARE", and "COMMENT".

Like US on Facebook, Twitter, Instagram , YouTube, Wechat, and Weibo public. Thanks for your attention.
-Optolong Team